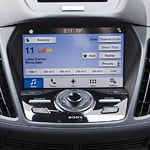 Crossover vehicles are becoming more popular today, and the Ford Escape is right at the top of its class here at Marketplace Motors Inc. The Escape lives up to its stellar reputation with entertainment technology that gives you more options and control.
Each Ford Escape is equipped with SYNC 3 functionality. This allows you to pair your mobile devices using Apple CarPlay or Android Auto. All of the entertainment systems in the Ford Escape can be managed via its touchscreen, and the system also has voice recognition. This gives you the benefit of hands-free control over your music system and other functions. The technology in the Ford Escape was designed to be both practical and safe.
Would you like to learn more about the technology of the Ford Escape? We invite you to take a test drive at our dealership in Devils Lake, ND today. Just call or visit and we'll be happy to schedule one for you.