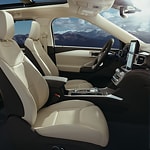 If you're on the market for a full-size SUV, then look no further than the Ford Explorer. This popular SUV has been in the game for many years, and it keeps getting better with age. Consumers can choose from multiple paint jobs, including agate black, rapid red, star white, magnetic gray, and others.
The Ford Explorer is architecturally crafted to the fullest. The exterior of this machine has nice aerodynamics as well as sweeping lines. The contours here will glide along the body lines with ease as there is nothing that feels forced. Its athletic frame also possesses well-crafted LEDs on both ends of the frame. The Ford Explorer goes even further by offering some of the most aesthetically pleasing windows that are asymmetrical in design. This SUV's name is also placed on the edge of the hood.
Come and get a first-hand glimpse of the Ford Explorer by visiting our showroom.